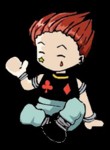 I started collecting in November 2002, not realizing what an addictive and expensive hobby this is.
My collecting is generally character based and I have a real liking for the comedy relief characters, as in life I tend to like people that can make me laugh.

This week I 'ave been mostly buying hunter X hunter cels.

As a lot of people have been recently inquiring I must now state that none of my cels are available for sale or trade. sorry.

News & Updates

Nothing new. Come back later.